We understand that online payments in Indonesia can sometimes be challenging, which is why we now offer the option to book your stay at Villa Onu with Booking.com.
Whether you're planning a romantic getaway, a family vacation, or a here for the surf, Booking.com provides an easy and trustworthy platform to secure your reservation at Villa Onu.
Hereis the link to our Booking.com Profile: https://www.booking.com/Share-ZPMCi8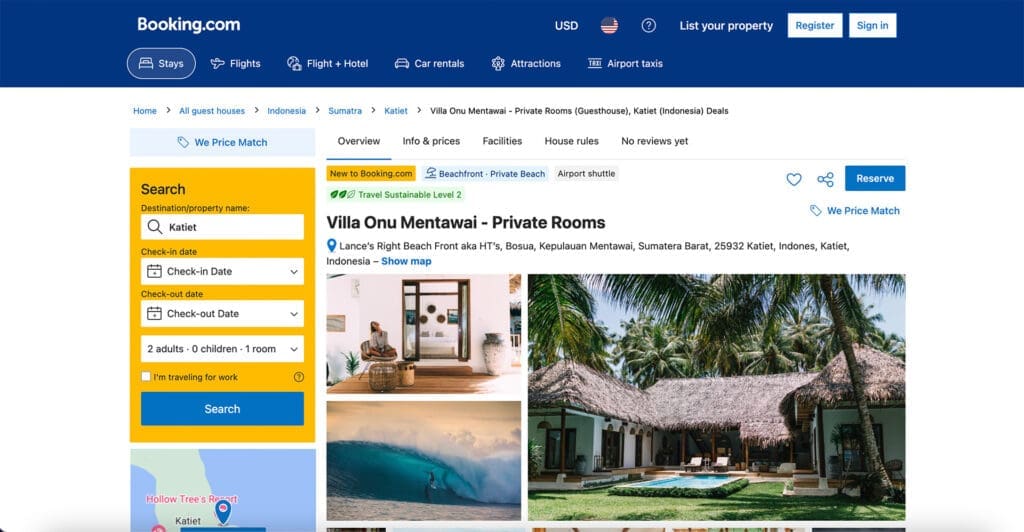 Why Choose Booking.com?
Peace of Mind: Booking.com is a globally recognized and trusted platform, ensuring that your booking is safe and secure. Your payment information is protected, giving you the confidence to plan your stay stress-free.
User-Friendly: Booking.com's user-friendly interface allows you to easily browse Villa Onu's room options, read reviews from other guests, and select the perfect accommodation that suits your preferences.
Instant Confirmation: When you book through Booking.com, you receive instant confirmation of your reservation, allowing you to start getting excited for your Mentawai adventure immediately.
Flexible Payment Options: Booking.com offers a variety of payment methods, some of which are not available yet to businesses in Indonesia, making it easier for travelers from around the world to book their stay at Villa Onu.
Get The Best Deals Direct!
While we are stoked to be able to offer booking.com as an option, we will always have a better deal for booking directly with us through our website or by getting in touch.
So if you are looking to save a few bucks on your trip to Mentawai, book directly, and keep an eye out on our deals and promotions page or our social media for the latest treats.