How to get to the Mentawai Islands
They say "A journey of a thousand miles begins with a single step". In our case there are a few steps, but we are here to make it easy.
Being a remote island paradise adds some steps to the journey. Here's what you need to know.
Traveling from Bali? We have a detailed article specifically on How To Get To Mentawai From Bali.
The steps to getting to Mentawai
Everything you need to know about your journey to Mentawai and Villa Onu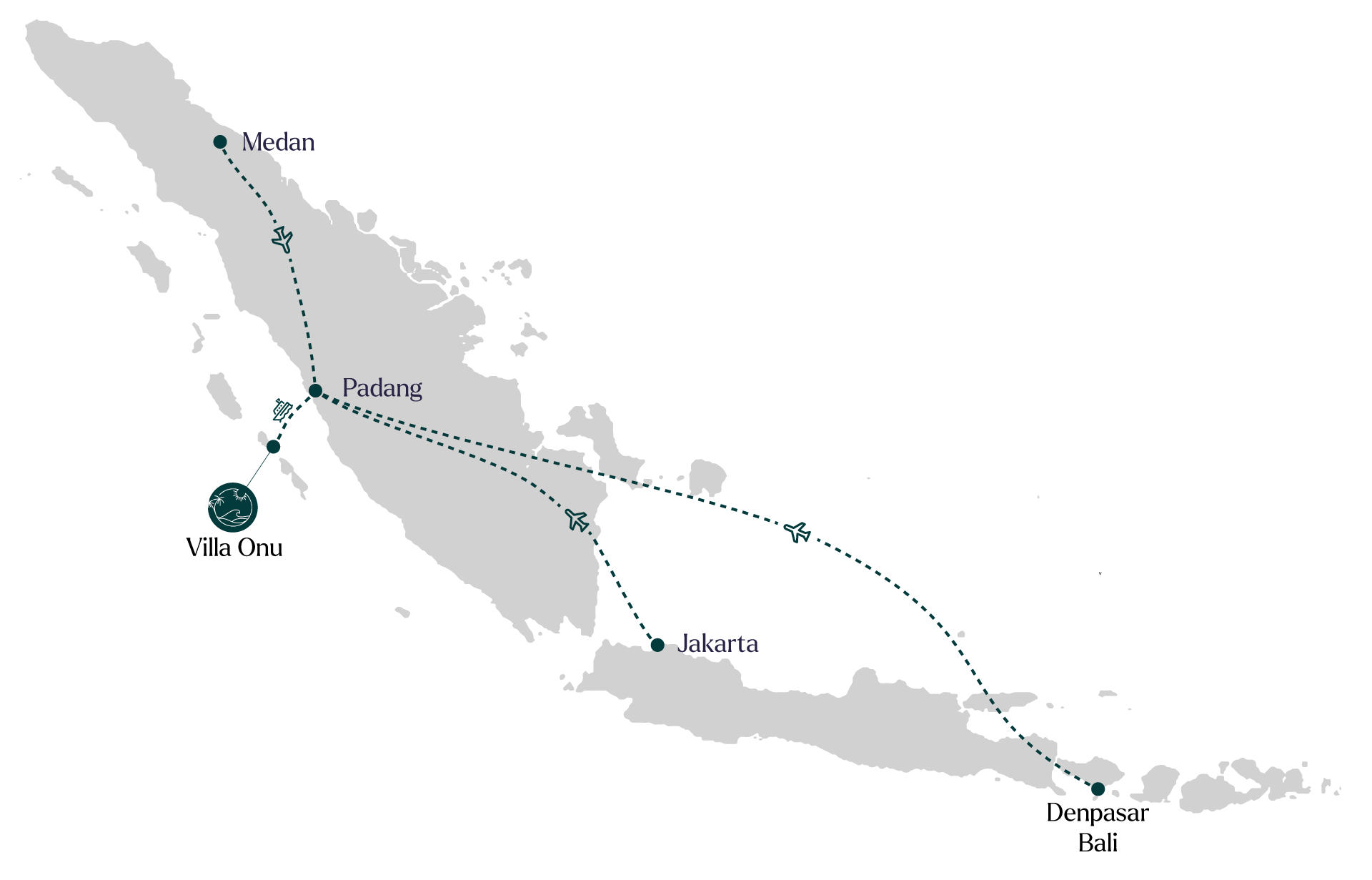 Step one
Fly to Padang
The Mentawai Islands are located off the coast of West Sumatra, Indonesia. The nearest major city is Padang, so you'll need to fly there first.
Many airlines, both domestic and international, operate flights to Padang (PDG). If you are flying in internationally we recommend flying to Jakarta as they offer the most daily flights to Padang with 27 daily direct flights between Jakarta and Padang. However, you can also fly from Kuala Lumpur (KUL), Medan (KNO) and Bali (DPS) with relative ease, just be ready for fewer choices.
Flight options to Padang
From Jakarta (CGK) with Garuda, Citylink, Batik Air, Super Air Jet or Air Asia.
From Kuala Lumpur (KUL) with Air Asia.
From Bali (DPS) with Lion Air, Citilink, Batik Air or Garuda
It's worth noting that if you fly from Bali you will have a connection in Jakarta. This can add some additional costs if you are traveling with surfboards as the airlines will typically charge per board, per flight.
If you are flying from Kuala Lumpur to Padang, Visa On Arrival (VOA) is available at immigration in Padang.
Make sure you arrive in Padang the day before you plan to take the Mentawai Fast Ferry
Because of the ferry timetable, you will need to arrive in Padang on Sunday, Tuesday, or Thursday to catch the ferry the following morning to Tuapajet.
Step 3
Fast Ferry From Padang to Tuapajet
Next step is the ferry from Padang to the Tuapajet, the capital of our island Sipora.
The fast ferry leaves at 7 am on Monday, Wednesday, and Friday from the harbor in Muara, Padang.
We recommend having an early start and making sure you are at the ferry with plenty of time, and it's worth arranging this with the driver you use from the airport.
The fast ferry tickets cost 400K per person one way. Regular luggage is included in this fee.
Surfboards are charged by weight
1-15KG – 230,000 IDR/bag – $15-17 USD/bag
16-25KG – 460,000 IDR/bag – $30-32 USD/bag
>26KG – 690,000 IDR/bag – $45-47 USD/bag
Your ticket and luggage fees are paid in cash, and you will need some smaller change for tipping the luggage porters, normally 20,000 IDR or so.
Make sure you keep your ferry ticket and luggage/surfboard ticket with you as you will need it to collect them once you arrive in Tuapajet.
The fast ferry journey takes 3-4 hours depending on the weather and sea conditions.
Step 4
Speedboat from Tuapajet to Villa Onu
Once you arrive in Tuapajet, you will be met by our team who will help you load your luggage onto our speedboat to finish your journey to Villa Onu. This is the last leg of your journey and will take 1- 1.5 hours meaning you will arrive at the villa at 11.30-12.30 pm.
Take the stress and guess work out of travel
Standard transfer service
We know that getting to the Mentawai islands can seem like a bit of a headache, especially if it's your first time here. Our standard transfer package is designed to make getting from Padang Airport to Villa Onu smooth and easy.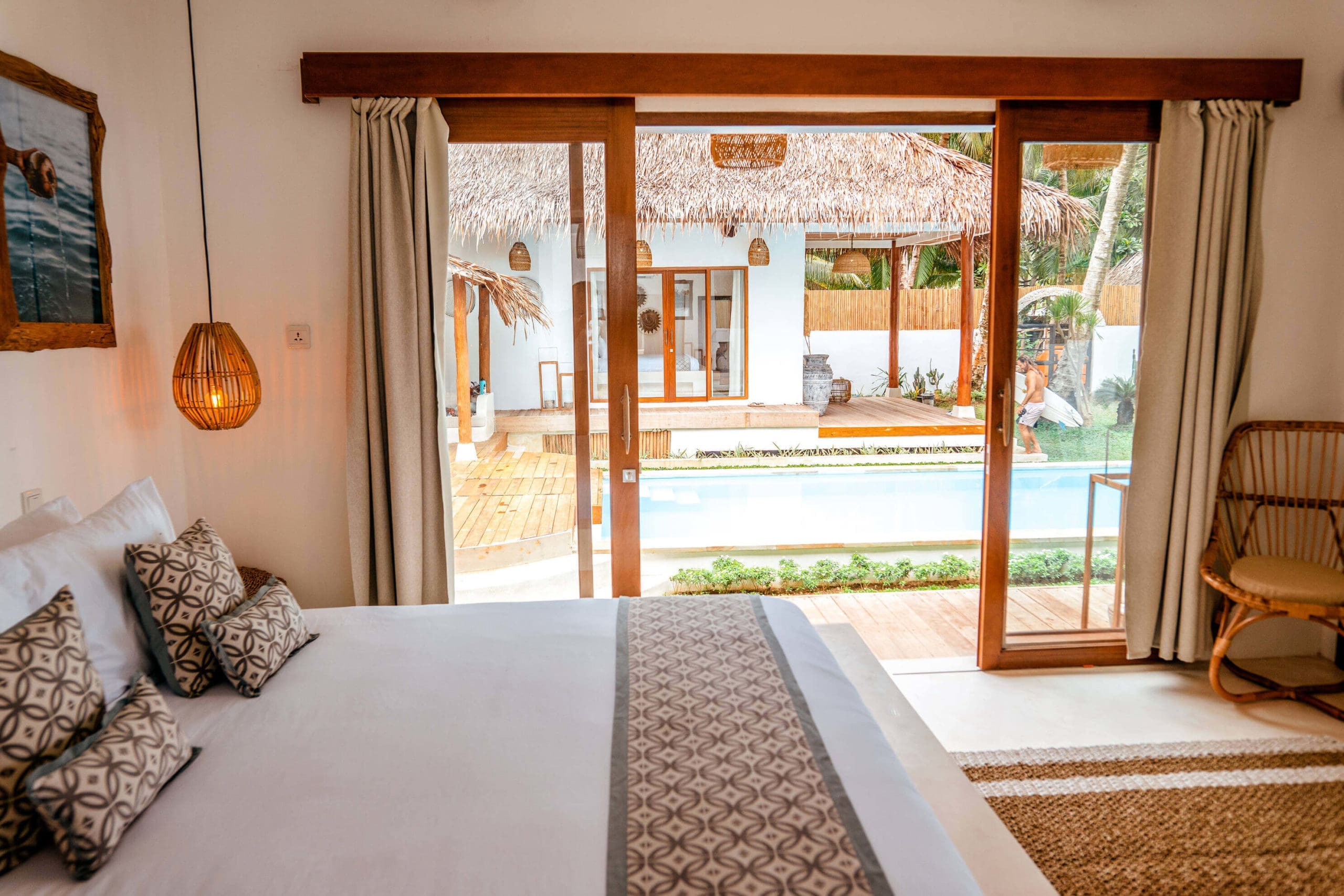 VIP transfer Service
Our VIP transfer service handles everything for you upon arrival and includes 2 nights of accommodation in Padang at a 4-star hotel for your arrival and departure transit days, ferry tickets, luggage and more. 
Private Speedboat
Spend your arrival night in the luxury of Villa Onu and skip the overnight stay in Padang and the ferry altogether. Soon as you touch down you'll be met by our team, taken to your private speedboat, and bought straight to the villa.
from
$3,200 USD
Up to 10 people one way